Since the last presidential election, politicians in 20 states have passed dozens of new voting laws, which means millions of Americans will face unprecedented requirements to vote.
Check out our full project here.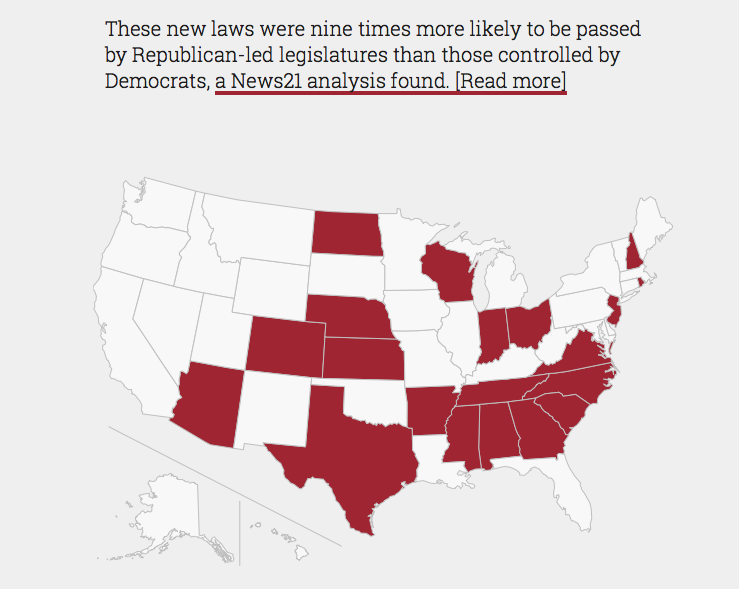 And here's the news release:
The Carnegie-Knight News21 program, a national multi-university reporting initiative headquartered at Arizona State University's Walter Cronkite School of Journalism and Mass Communication, released a major investigation Saturday into the issues surrounding voting rights in America.
Thirty-one students from 18 universities traveled to 31 states and interviewed hundreds of individuals to produce "Voting Wars." The project is at votingwars.news21.com.
Portions of the investigation will be published by major media partners, including The Washington Post, nbcnews.com, USA Today Network, The Dallas Morning News and The Philadelphia Inquirer, plus a number of nonprofit online news sites affiliated with the Investigative News Network. In all, more than 100 media properties will publish portions of the investigation.
"'Voting Wars' fills a void in the election coverage," said Carnegie-Knight News21 Executive Editor Jacquee Petchel, a Pulitzer Prize-winning investigative journalist. "In the last couple of years, we've seen a number of legal decisions involving voting rights that impact the election process. Our fellows really rose to a significant challenge to shine a light on an important national issue."
Petchel supervised the student reporters' investigative project with a team of award-winning journalists who serve on the faculty of the Cronkite School. They include Leonard Downie Jr., former executive editor of The Washington Post and Cronkite's Weil Family Professor of Journalism; Pulitzer Prize-winning data specialist Steve Doig, the Knight Chair in Journalism; Christina Leonard, director of Cronkite's Reynolds Business Reporting Bureau; Rebecca Blatt, director of the Cronkite News Digital Production Bureau; Theresa Poulson, director of the Public Insight Network Bureau; and Cronkite School faculty associate Brandon Quester.
Work on the project started in January with a video-conference seminar on voting issues taught by Downie and Petchel. Students heard from experts on the topic of voting rights, analyzed data, researched topics and conducted interviews around the country.
From late May to the end of July, the student journalists completed a 10-week fellowship, working out of Cronkite School newsroom on the ASU Downtown Phoenix campus. They crossed the country in multimedia reporting teams, examining the political divide between citizens with significant voting power and those without, particularly in disadvantaged communities.
Carnegie-Knight News21 is designed to give students experience producing in-depth news coverage on critical issues facing the nation, using innovative digital methods to distribute the content on multiple platforms. The fellows shot hundreds of photos, 30-plus videos and several in-depth short documentaries for "Voting Wars."
"One the most gratifying aspects of News21 is the enormous growth of the student journalists from January to August each year," Downie said. "Although much of the nation's news media has been covering voting rights during this election campaign, the News21 students produced professional-quality stories, multimedia and data analysis that cannot be found anywhere else, which is why so many media partners are interested in publishing their work."
The project follows up and expands on a 2012 investigation on voting rights that won numerous awards, including the First Amendment Award from Society of Professional Journalists and a National Media Award from the National Association of Black Journalists. That project included the most exhaustive study ever of American election fraud, discovering only 10 cases of in-person voter fraud between 2000 and 2012.
Petchel said the school decided to revisit the issue because of recent court rulings such as Shelby County v. Holder in 2013, which struck down a section of the Voting Rights Act of 1965 that required certain states to obtain federal approval before changing voting laws.
For the 2016 investigation, students examined voting laws in all 50 states. They tallied dozens of new voting laws in 20 states and found that laws were nine times more likely to be passed by Republican-led legislatures than those controlled by Democrats.
Carnegie-Knight News21 fellows traveled to these states to talk with voters impacted by the new laws and reported in states that were battlegrounds in the civil rights movement. One of them, Cronkite graduate student Lily Altavena, a Carnegie-Knight News21 Ethics and Excellence in Journalism Foundation Fellow, reported from Arkansas, Louisiana, Michigan and Mississippi as well as from the Democratic National Convention in Philadelphia. She was part of a reporting team that covered how lawmakers have stripped locally elected school board members of their power, leaving parents without a voice.
Altavena, who hopes to become an education reporter, said the Carnegie-Knight News21 investigation helped her gain valuable experience. "I got to do the reporting that I've always wanted to do," she said. "I've been given some really amazing reporting opportunities."
Over the past seven years, Carnegie-Knight News21 projects have included investigations into post-9/11 veterans, marijuana laws and guns in America, among other topics. The projects have won numerous awards, including four EPPY Awards from Editor & Publisher magazine, the first Student Edward R. Murrow Award for video excellence and a host of honors from the Society of Professional Journalists and the Hearst Awards Program, considered the Pulitzer Prizes of collegiate journalism.
The universities participating in the 2016 Carnegie-Knight News21 program are Arizona State University, Elon University, Florida International University, Hampton University, Kent State University, Louisiana State University, St. Bonaventure University, Syracuse University, Texas Christian University, University of British Columbia, University of Florida, University of Maryland, University of Nevada, Reno; University of North Texas, University of Oklahoma, University of Oregon, University of Tennessee and University of Texas at Austin. The fellows are:
Lily Altavena, ASU
Alex Amico, Syracuse University
Alejandra Armstrong, ASU
Lian Bunny, St. Bonaventure University
Elizabeth Campbell, Texas Christian University
Andrew Clark, University of Oklahoma
Nicole Cobler, University of Texas at Austin
Courtney Columbus, ASU
Hillary Davis, ASU
Sami Edge, University of Oregon
Erin Fox, ASU
Max Garland, Elon University
Taylor Gilmore, University of Tennessee
Natalie Griffin, University of Maryland
Marianna Hauglie , ASU
Sean Holstege, ASU
Pinar Istek, University of Texas at Austin
Phillip Jackson, Hampton University
Roman Knertser, Syracuse University
Mike Lakusiak, University of British Columbia
Emily Mahoney, ASU
Jimmy Miller, Kent State University
Emily Mills, Kent State University
Michael Olinger, University of Nevada, Reno
Pamela Ortega, University of Oklahoma
Kathryn Peifer, ASU
Jeffrey Pierre, Florida International University
Sarah Pitts, University of Oklahoma
Amber Reece, University of North Texas
Ali Schmitz, University of Florida
Rose Velazquez, Louisiana State University
Carnegie-Knight News21 fellows are supported by their universities as well as a variety of foundations and philanthropists. The Ethics and Excellence in Journalism Foundation supports the three University of Oklahoma fellows as well as three fellows – Altavena, Armstrong and Holstege – from ASU.
The Donald W. Reynolds Foundation supports Columbus, Hauglie and Peifer of ASU, and the Hearst Foundations supports the fellowships of Davis and Fox, both from ASU. Louis A. "Chip" Weil provides support for ASU's Mahoney.
Olinger from the University of Nevada, Reno, is supported by the Fred W. Smith Chair at UNR. Reece from the University of North Texas is supported by The Dallas Morning News. The Diane Laney Fitzpatrick Fellowship supports Miller from Kent State University, and the David Dix Fellowship supports Mills from Kent State University.
The John S. and James L. Knight Foundation: Knight Foundation supports transformational ideas that promote quality journalism, advance media innovation, engage communities and foster the arts. We believe that democracy thrives when people and communities are informed and engaged. For more, visit knightfoundation.org.
The Carnegie Corporation of New York: The Carnegie Corporation of New York, which was established by Andrew Carnegie in 1911 "to promote the advancement and diffusion of knowledge and understanding," is one of the oldest, largest and most influential American grant-making foundations. The foundation makes grants to promote international peace and to advance education and knowledge
The Ethics and Excellence in Journalism Foundation: The Ethics and Excellence in Journalism Foundation, headquartered in Oklahoma City, was founded by Edith Kinney Gaylord, the daughter of Daily Oklahoman Publisher E.K. Gaylord. Ms. Gaylord created the Ethics and Excellence in Journalism Foundation in 1982 to improve the quality of journalism by supporting research and creative projects that promote excellence and foster high ethical standards in journalism.
Hearst Foundations: The Hearst Foundations are national philanthropic resources for organizations and institutions working in the fields of education, health, culture and social service. Their goal is to ensure that people of all backgrounds have the opportunity to build healthy, productive and inspiring lives. The charitable goals of the Foundations reflect the philanthropic interests of William Randolph Hearst.
The Donald W. Reynolds Foundation: The Donald W. Reynolds Foundation is a national philanthropic organization founded in 1954 by the late media entrepreneur for whom it is named. Headquartered in Las Vegas, it has committed more than $115 million nationwide through its journalism program.
Louis A. "Chip" Weil: Weil served as president and chief executive officer for Central Newspaper Inc., which owned The Arizona Republic. Prior to becoming CEO, he was president and publisher of the Detroit News and publisher of Time magazine. Weil and his wife Daryl established the Weil Family Professorship at the Cronkite School.